You can customize the background color of the page title is the same as landing page Features Area.  Here we will show you how.
Click here to open your Weebly Editor and to open up the W Theme Editor.
Step1: Open main_style.css
a) We will first open the main_style.css page located in the top left hand column of the W Theme Editor
b) Once open locate the code below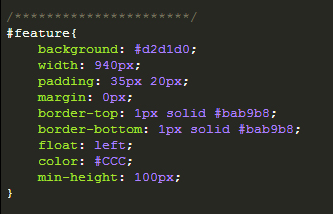 c) The background color is indicated by background: #d2d1d0;
Depending on your theme the default Feature Area Background color may be different. The important part is to     locate the background color code.
d) You can change the color code  (#d2d1d0;)  to anything you like. Click Here to find your color code.
Step2: Save & Publish
Once you have the color you want, save & publish your site.