You can customize the background color of the Features Area.  Here we will show you how.
step1: Login to your Weebly account
step2: Click into "design" then into "edit html/css"
step3: On the left hand column, locate and click on "main_style.css" to open the CSS editing page.
Step4: Find & Edit Background Color Code
a) In the main_style.css page, locate the code below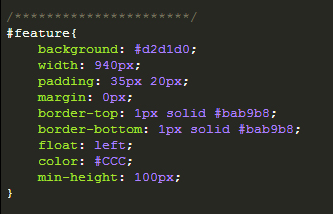 b) The background color is indicated by background: #d2d1d0;
Depending on your theme the default Feature Area Background color may be different. The important part is to     locate the background color code.
c) You can change the color code  (#d2d1d0;)  to anything you like. Click Here to find your color code.
Step5: Save & Publish
Once you have the color you want, save & publish your site.