If part of your carousel item is cut off at the bottom this mean the auto height is having difficulty reading the height of your item.
Simply define the height of your item to fix the cut off issue
In the item html, add a height code in the highlighted area below: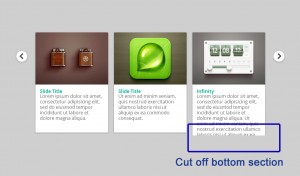 In the highlighted area, add this:  height: 300px;
Here you can insert any number in place of 300. Depending on the height you want, you can customize the height value of the item as you like.
The final item code will look like this: